INTERWEB is dedicated to quality and has all that it takes to be a most reliable quality assurance partner. Our in-depth knowledge of latest technologies and methodologies enable us to look for and set quality at every stage.

We are equipped with the latest tools and technologies for testing our client's project. This, together with the highly technical expertise and dedication of our workforce allows us to provide excellence in our testing services. Our investment in resources and infrastructure ensures that we deliver your product in a specified time limit and at the lowest cost.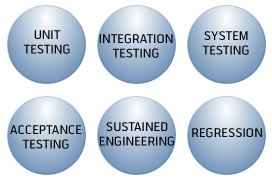 We have designed our labs for maximum efficiency and control. Our dedicated team of skilled software testers, QA Lab, provides a full range of quality assurance services (QA), including software quality consulting, test planning, test execution and reporting, control of software development processes.

Our resourceful and proficient personnel are a dedicated lot who work diligently to give out ultimate and full fledged solutions. Our testing lab provides a flexible environment where technological trends can be changed at any given time to keep up with the current development. They make sure our work process is communicated well with the client and documented properly, and ensure the product is delivered on time.
:: Our Quality Assurance (QA) and Testing Services include:

Integration/Systems Testing

User Acceptance Testing

Performance Testing

Automation Testing

Regression Test Suite creation and automation

Product Assurance and on-going Release Testing

Security Testing

Compatibility Testing

Configuration Testing

Accessibility Testing

Performance and Load Testing

Usability Review