Are You looking for competent custom software solutions? We create it for you. Rising competition in IT industry has given rise to desire of custom software development that requires an in depth proficiency of developers and flexible yet structured methodology to create high quality software development solutions with tactical differentiation and operational superiority.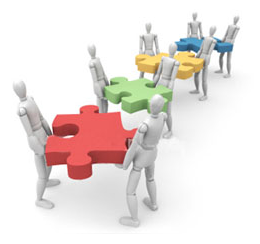 Ongoing advancements in methodologies & predictability of legacy applications have given ample space for the growth of enterprise application development system in today's technology competent IT industry. Whether it is a leading organization or a budding company, every business requires a highly efficient & result-oriented enterprise application supported by robust & flexible process. Meeting the standards of ERP, CRM & PLM's, a resourceful enterprise application should be capable of streamlining all business operations from customer resource management and key business operations to third party participations.
An application can stand all challenges if backed by a powerful & flexible methodology & approach. Thus, efficiency of an application is entirely dependent upon the process. INTERWEB believes in creating first-rate applications with cutthroat advance technologies combined with robust & legacy processes meeting all your business specifications and budget. INTERWEB's powerful & reliable platforms, enterprise application processes, and high-class knowledge management together create innovative & customize applications at prices as good as off-the-shelf software.

INTERWEB helps you get everything right taking the least possible of your precious time. From designing of an application that meets your business demands to rigorous testing & quality assurance to impart security, reliability & stability, INTERWEB follows highly competent & rigorous validation methodologies to create high quality, near zero defect applications ensuring the enhanced performance of your enterprise & business growth with complete control on application.

INTERWEB exploits today's automated core business processes that have given rise to modernized legacy applications, which are not only robust and mission critical but also preserve their functionality during the relocation or re-platforming process. INTERWEB doesn't deliver a quality enterprise solution but more of a technical solution that provides you ample opportunity to lead your competitors, control business revenues, and meet future demands.

Outsource your requirements to INTERWEB now and experience the positive change.
---
We now have our affiliated resellers located in Los Angeles, CA | San Jose, CA | San Diego, CA | San Francisco, CA | Santa Monica, CA | Sacramento, CA | Long Beach, California | Chicago, Illinois | Dallas, TX | Austin, TX | El Paso, TX | Fort Worth, TX | San Antonio, TX | Houston, Texas | Detroit, Michigan | Syracuse, NY | Rochester, NY | Manhattan, NY | Hempstead, NY | Buffalo, New York | Jersey City, NJ | Philadelphia, PA | Pittsburgh, Pennsylvania | Phoenix, Arizona | Indianapolis, Indiana | Miami, FL | Tampa, FL | Jacksonville, Florida | Columbus, Ohio | Nashville, TN | Memphis, Tennessee | Baltimore, Maryland | Virginia Beach, VA | Arlington, VA | Charlotte, North Carolina | Milwaukee, Wisconsin | Boston, Massachusetts | Portland, OR | Seattle, WA | Tacoma, Washington | Denver, Colorado | Oklahoma City, OK | Tucson, Arizona | Atlanta, Georgia | Newark, New Jersey and Kansas City, KS. Click for more info.